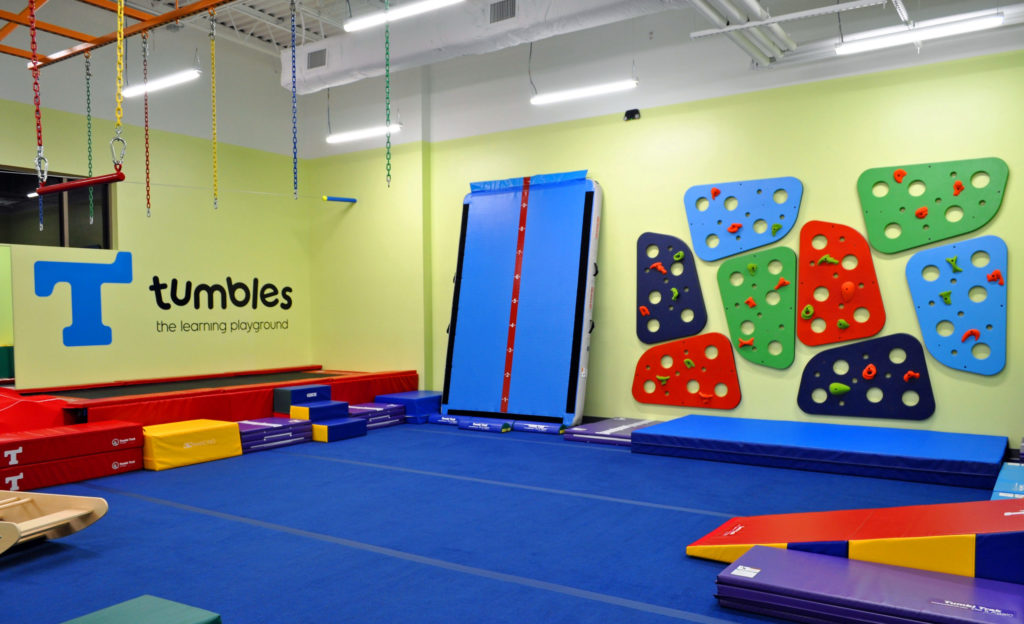 TUMBLES LLC
Tumbles is a growing kids' gym and STEAM franchise based on developmental milestones and designed to fight childhood obesity. The gym and STEAM (Science, Technology, Engineering, Art and Math) programs feature regular classes, independent play, parties, camps and special events that help kids get active, take safe and measured risks, explore independently, and interact with their peers in a fun, safe and clean environment. Tumbles' mission is both simple and ambitious: Shaping the minds and bodies of the future.
Why Tumbles Franchise?
It is a Franchise business that helps kids get fit for the fun of it. We know you have a lot of options when it comes to choosing a franchise to invest in. With Tumbles, you can build a profitable franchise business while fighting childhood obesity and challenging young minds and bodies through fun and effective fitness and education programs. Plus, our children's franchise combines multiple revenue streams, a passive income opportunity and an experienced support team that's dedicated to your success.
Benefits of buying Tumbles Franchise
Successful brand with multiple revenue streams
A proven curriculum
Established and proven systems
Seasoned team to help you build a thriving kids' franchise.
Ongoing training and support program
Reputable board and Solid Management Team
60+ years of combined business expertise
Ideal Franchise Owner
As a franchise partner, you don't need specific experience working in the children's space to become part of the Tumbles family. However, our ideal franchise partners share these common traits:
Self-motivation and a desire to build a profitable franchise business
A passion for helping kids achieve health and wellness
Strong character and integrity
An entrepreneurial, team spirit and the desire to be part of a successful franchise business with established policies and procedures
Ability to communicate effectively with customers and staff
Experience hiring, managing and motivating a diverse group of team members
Solid understanding of business and operations
Strong sales and marketing skills and the ability to build lasting relationships in the community
Investment Requirement
The start-up costs for Tumbles Franchise ranges from $212,500 to $414,500, see breakdown below;
| | | |
| --- | --- | --- |
| Description | Amount | |
| Size | 3,000 sq. ft. | 5,000 sq. ft. |
| Initial Franchise Fee | $42,000 | $42,000 |
| Lease Payment | $6,000 - $12,000 | $15,000 -$30,000 |
| Access Fee | $12,000 | $12,000 |
| Signage and site improvement | $30,000 -$60,000 | $47,000 -$100,000 |
| Utility Deposits, Business Licenses and Insurance | $1,000 - $5,000 | $1,200-$5000 |
| Equipment and Inventory | $42,000 - $51,000 | $101,000 - $120,000 |
| Shipping on Equipment and Inventory | $5,000 - $7,000 | $7000 -$9,000 |
| Construction Management Fees | $22,000 - $30,000 | $22,000 - $30,000 |
| Training-Related Travel Expenses | $1,000 - $5,000 | $1,000 - $5,000 |
| Grand Opening Advertising | $22,500 | $22,500 |
| Computer Hardware and Software | $1,500 - $4,000 | $1,500 - $4,000 |
| Miscellaneous | $2,500 -$5,000 | $2,500 -$5,000 |
| Additional Funds (For First 3 Months of Operation) | $25,000 - $30,000 | $25,000 - $30,000 |
| Total Investment | $212,500 -$285,500 | $299,700 -$414,500 |
Current Operating Locations
California, Georgia, New Jersey, New York, Texas, Virginia
Available Locations for Franchise Opportunities
Houston, TX, Baton Rouge, Frisco, TX, Qatar,