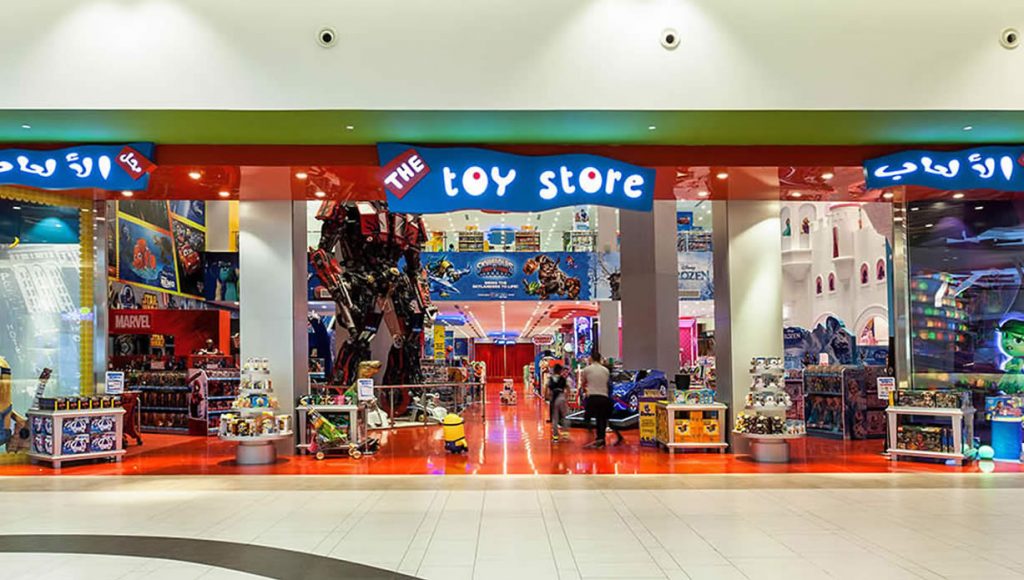 The Toy Store
he Toy Store, part of the RM Group based in Dubai, has established itself over the past 10 years across the Middle East as the toy retailer of choice.
The Toy Store concept focuses on its core customer - the children - and delivers a magical experience for each and every child to remember.
The Toy Store is a home-grown Brand, with the motto "Wanna play?" emphasizing that the brand is focused on fun, excitement and enjoyment.
The Toy Store's strapline "play before you pay" is at the heart of the customer experience. Children & parents have the chance to experience many of the toys before purchasing. Demonstrations are continuously happening throughout the store.
The Toy Store staff are trained in each of their categories to ensure they can provide the expert knowledge to the customers. This enables them to suggest alternative products if the designated toy is not suitable for the age range.
A walk through of the store highlights the energy and uplifting atmosphere that drives customer engagement and loyalty.
The red and blue storm troopers at the entrance are symbolic of The Toy Store Brand and act as our security guards to the store.
Staff are moving around the store on skateboards and scooters, engaging with the children.
A magician is showing his tricks in one area, Play-Doh and Lego tables are scattered around for hands on play, the Carrera race track is available to race your friends and don't forget the talking tree in the story corner!
Fun fun fun experience is what The Toy Store aims to deliver on a daily basis.
After a significant expansion in the last two years in the Middle East, the concept is now ready to go global and to take on the International market.
The Toy Store is now actively looking for established retail partners who want to be responsible for putting back the magic in the toy industry.
Who Is The Ideal Franchisee?
Our ideal Franchisee has the following credentials:
Experienced retailer
Already holds an international franchise(s)
Solid financials and access to capital
Passionate about the brand (not just a brand collector)
Committed to grow the brand in their specific region
Infrastructure in place to accommodate the brand
Regional specific (not sub region)
Understands the regions
Unique Business Proposition
Creating a customer experience to remember
Red & Blue storm-troopers in the front of store as security guards
Largest range of branded toys in the region (to be replicated in each market).
"Play before you pay" is our motto.
Lots of demonstrations throughout the store.
Online site that would benefit the regional stores.
Current Operating Locations
We have operational locations in UAE, Qatar, Bahrain, Oman.
Available Locations For Franchise Opportunities
Russia
Turkey
Eastern Europe.