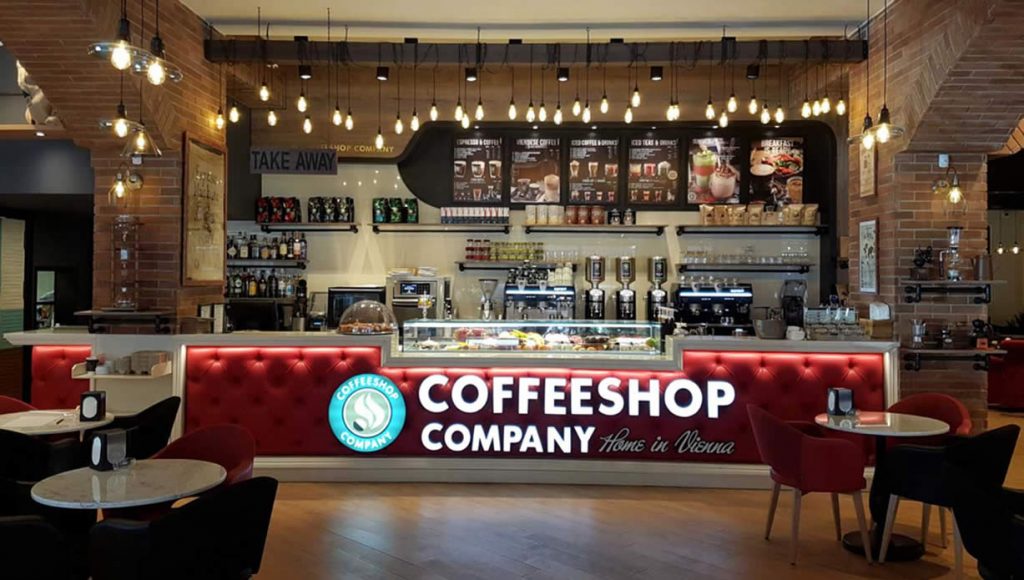 Coffeeshop Company
Coffeeshop Company is based in Austria, part of the Schärf Group of companies. It produces its own high quality Espresso coffee from highland Arabica coffee beans; its heritage is the ever-popular traditional Viennese coffee house with its unequalled atmosphere.
The Coffeeshop Company stands for a perfect coffee experience coupled with a comfortable, balanced atmosphere and ambience and presents itself as a new interpretation of the classic Viennese Coffeehouse tradition, which was included in the UNESCO list of "intangible cultural heritage" in 2011.
With Coffeeshop Company, the Schärf group of companies, with over 60 years of excellence in the coffee industry, aims at bringing the traditional coffee house culture and the modern "coffee to go" trend into harmony as effectively as possible by also repositioning coffee as a "lifestyle product".
This hugely successful international franchise concept is today represented by more than 250 outlets across 5 continents, with an organic growth and expansion into new markets coming up within the coming months.
Franchisee Support
Training & Support
"Tell me and I will forget, show me and I will remember, involve me and I will understand" - this is the basis of our Training and Teaching method. An emotion-based teaching method, in the world-wide unique, 2000 m2 multi-medial theme park, known as Schärf World, our Training process offers a thorough, but interesting yet versatile and particularly aromatic learning course. It combines our senses and takes every visitor on a journey through every step of the value chain, from a real coffee plantation to a state-of-the art roasting plant, from coffee and gastronomic concepts to machine technology, and leaves a fascinating impression from the world of coffee in the human mind.
Knowledge about the highest quality of products, presentation, hygiene, service and business are regularly shared with our partners through elaborate trainings with baristas and product specialists, marketing, design, technology, finance and controlling as well as logistics departments.
Who Is The Ideal Franchisee?
As a future franchisee of the Coffeeshop Company, everyone who shares the love for high quality espresso coffee will come into consideration, ideally along with displaying the following features:
Ability to fund, develop and operate multi-unit Coffeehouses within a defined region.
Experience as a multi-unit Franchisee/Franchisor/Corporate operator preferably in foodservice or with contacts to human resources in this area.
Real estate ownership, expertise or established broker relationship for identifying and negotiating sites.
Direct experience with new locations: Site selection, Entitlement, Construction, Staff recruitment, Training and Opening.
Contacts with local government in the respective market.
Unique Business Proposition
Over 60 years of experience based on the Schärf Group of Companies
Unique fusion of the traditional world with modern trends
World-wide network and experience across all continents
Globally unique and patented coffee machine and water technologies
Sustainability within the entire value-chain
Beverage competence based on specially developed ingredients.
Food competence based on full kitchen experience within the Schärf concepts
Shop Modules: the perfect concept and fit for every shop size
Continuous Training & Development at 2000 m2 multi-media coffee theme park
Real-time state-of-the-art technical and operational backend support with Manuals, Guidelines, Advertisement material, Seasonal promotions & more
Continuous product development and optimization
Current Operating Locations
We have over 150 operational locations worldwide.
Available Locations For Franchise Opportunities
UAE
Oman
Saudi Arabia
Jordan
Egypt
Morocco
Africa
more worldwide.