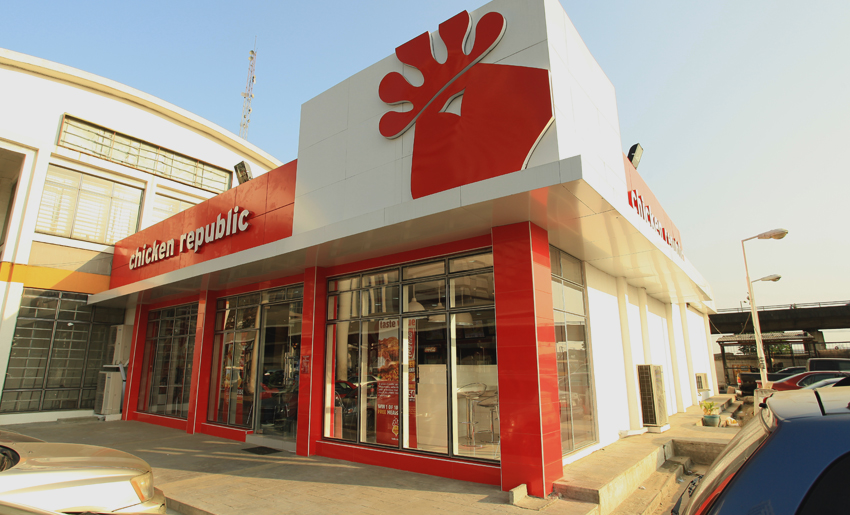 Chicken Republic
Chicken Republic is an ambitious, world-class modern African Brand. We began operations in 2004, have already opened over 60 stores within Nigeria and Ghana and plan to open 300 stores within the next three to five years. This makes us proud of our hard-earned reputation as the fastest growing chicken brand in West Africa. Our simple "Taste More" Brand philosophy encourages a bold spirit of adventure as we set out to challenge the status quo by constantly raising the quality and standards of our products and services. We invite our customers to experience more as they interact with our Brand and enjoy the sensory pleasures of our soulfullyspiced West African chicken and sides. All flavored to perfection with our unique blend of authentic herbs and spices. We encourage our staff and franchisees to passionately learn, grow and strive for more, both to their own benefit and to the ultimate benefit of our customers. On this basis, Chicken Republic prides itself on the consistent delivery of product excellence, great value and impeccable customer service. All brought to life by warmly engaging with our customers in energetic, progressive, quick service restaurant environments.
Franchise Types Available
Single Store,
Area Development License,
Master Franchise License
How we support our Franchisees
We continually invest in recruitment, training and development of our team.
Hands-on Operational Support
Development & Project Support
Marketing Support
Brand Essence
Franchisee Selection Criteria
Our perfect franchisee candidates are individuals with: Professional qualities that emulate our business values, including integrity, good faith and fair conduct, dedication, teamwork, diversity and a passion for continuous improvement.
A demonstrable record of success in your own business or career, ideally with good interpersonal skills, operational experience and financial management skills.
Responsiveness, responsibility and accountability.
A strong desire to succeed and the will to ensure all-round business success including, financial, operational and compliance with quality and delivery standards.
Personal funds to commit to the business and/or the ability to raise the investment amounts required.
Personal discipline to ensure successful completion of our training, induction and on-going evaluation programmes.
Favourable trade and personal reference confirmations.
A preparedness to commit to a long-term relationship that entails ensuring that each aspect of the business is run seamlessly, each day, for the full franchise term.
Passion and commitment to delivering exceptional customer service at all times.
Willingness to continuously invest in the training and development of staff entrusted to deliver products and services to our customers.
Devotion of full-time efforts to the day- to-day operations of the business, which implies agreement to divest of all other business activities that are likely to detract from the time required to run and manage a Chicken Republic store. We pose an owner-operator model where the franchisee is 'hands-on' in the running of the business.
A vested interest and on-going participation in the protection and enhancement of the Chicken Republic Brand.
Investment Requirement
The Franchise joining fee payable is US$25,000.00
Total Investment requirement -N250,000,000
Royalty (% of turnover) - 5%
Marketing Levy 3+1% (LSM)
Development Plan - Variable
ROI - 18 - 36 Months
Ebitda Margin 20%
5 Years renewable.
Area Franchise Availability 
All over Nigeria where people love to eat chicken.
Master Franchise Available Internationally - Togo, Ivory Coast, Senegal, Cameroon, Sierra Leone, Ghana, Gambia