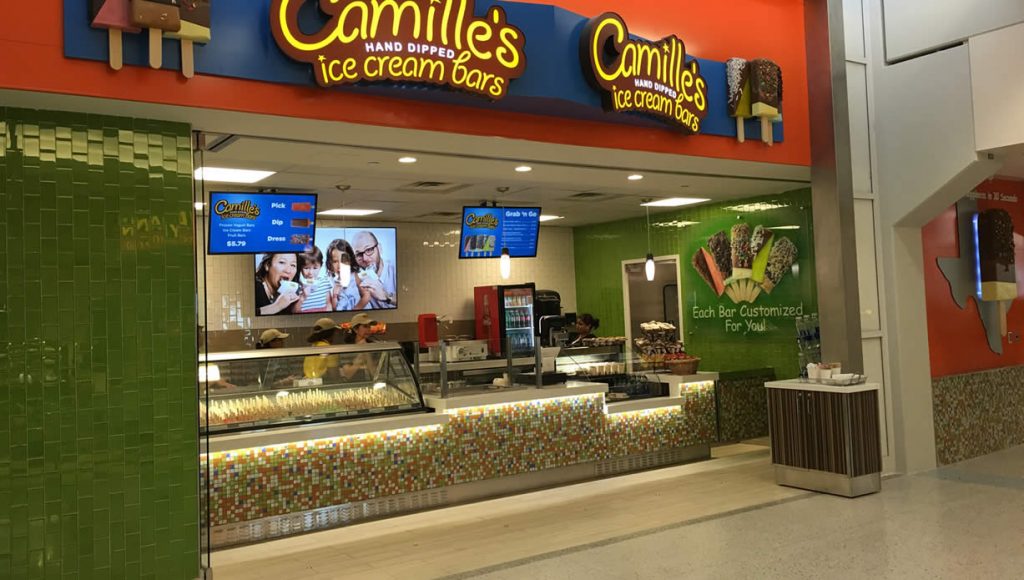 Camille's Ice Cream Bars
A unique concept which is using flash-freeze technology to make freshly made ice cream, yogurt and sorbet bars, on location where customers can create their own customized frozen treat.
From big milestones to tiny stepping-stones, life is filled with special moments. However, between bedtime, bath time, carpools and laundry, we worry that these special moments are getting lost in the hustle and bustle of life. We worry that we aren't taking time to linger, reflect and celebrate each and every birthday, recital and little league game. We need a place where we can press the "pause" button; where we can reward one another; where we can rejoice in all of life's special occasions.
That's where Camille's Ice Cream Bars comes in. A trip to Camille's is a special treat for people of all ages. The first franchise specializing in chocolate dipped ice cream bars, this cutting edge concept allows customers to customize their frozen treat with a variety of dressings and toppings. Customers can chose between Camille's hand-made ice cream, frozen-yogurt and sherbet bars. Dip and dress a bar filled with the world's finest quality ingredients including roasted nuts, fresh fruit and shaved coconut. In addition to the bars, full stores offer freshly squeezed lemonade, one-of-a-kind shakes, soft serve, FREE Wi-Fi and a Wall of Happy that could put a smile on anyone's face.
Camille's Ice Cream Bars opened its first location in Corpus Christi, Texas, in 2010. Since then the brand has moved its headquarters to Austin, Texas, and opened additional locations in Georgetown and San Marcos, Texas. The idea machine behind this innovative new concept is founder Rome Gregorio, a serial entrepreneur, renowned business developer and public speaker with a knack for taking start-up projects to the next level. Rome partnered with a team of talented culinary experts from around the world to devise and construct Camille's. In less than three years, the hand-dipped approach has already attracted the attention of sweets fanatics nationwide fueling the brand's growth throughout the southwest United States, and now WORLDWIDE!
As a company revolutionizing the frozen treat landscape in the U.S. and beyond, Camille's offers a highly profitable and proven business model for a variety of future franchisees: from entrepreneurs to culinary specialists to everyone in-between. The franchise offers low buy-in and a turnkey model for franchisees to follow. And the potential client base is the many millions of people searching for a local venue where they can celebrate and rejoice in all of life's special moments.
Who Is The Ideal Franchisee?
Seeking groups able to make Camille's the #1 innovative ice cream brand in their market.
Well capitalized groups with multi-unit food or retail development history.
Excellent leadership ability to drive growth.
High standard of excellence in Customer Service.
Uncompromised commitment to build and maintain brand integrity.
What Does The Franchisee Gain From Your Brand?
Great profits
Simple system
Family friendly
Unique Business Proposition
"Old Fashioned" familiarity with a "Fashion Forward" Appeal
Eye-popping and attractive store design
Customers are engaged in making their own creation
Fun to watch, innovative and creative process (Pick+Dip+Dress = Happiness)
Only 1 production store is required to open before opening kiosks (3.5M x 4.5M)
1 Commercial Kitchen can support up to 10 kiosks
Kiosks are pre-fabricated and delivered directly to franchisees
Lower startup costs
Maximized profits through portion control
Current Operating Locations
We have 2 operational locations in USA.
List the available locations for your franchise opportunities?
Africa
Nigeria
Middle East
Asia
UK
Germany
Spain
France
Russian Federation
India
and many more